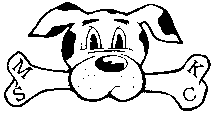 The Mahoning Shenango Kennel Club
An 88 Year Member of the American Kennel Club
Join Us At The Dog Show!
Steel Valley Cluster Dog Shows
At the Canfield Fairgrounds in Canfield, Ohio
Thursday, August 3 - Sunday, August 6, 2023
The Mahoning Shenango Kennel Club holds it's annual dog show at the Mahoning County Fairgrounds in Canfield, Ohio as part of the Steel Valley Cluster of dog shows. The dog show is a great place to learn about pure bred dogs as well as research breeds you may be interested in as an addition to your family in the future. If you think you may be interested in showing dogs, adding a pure bred dog to your family, want to learn more about pure bred dogs, or simply spend the day surrounded by outstanding dogs, then the Steel Valley Cluster is the place you want to be this summer! Join us for 4 days of AKC All-Breed Conformation Shows, AKC Rally, and NADD/AKC Dock Diving. Come watch these exciting canines strut their stuff!
Thursday - Fort Steuben Kennel Club
Friday - Columbiana Kennel Club
Saturday - Beaver Kennel Club
Sunday - Mahoning Shenango Kennel Club
​
Join Us For Agility!
Youngstown All-Breed Training Club
Agility Trials
13210 Mahoning Avenue North Jackson, OH 44451
The Mahoning Shenango Kennel Club is partnering with Youngstown All-Breed training club to offer 3 days of Agility Trials in one ring. Dogs race against a clock as they navigate an obstacle course with strong concentration and speed. Whether you just want to have fun exercising with your dog, or want to go further and enter an Agility competition, get ready for a fast-paced, rewarding experience that will get you and your dog in the best shape of your lives!
​
June 23-25, 2023
October 6-8, 2023
December 1-3, 2023
​
​
Join Us At The Dog Show!
Memorial Day Cluster Dog Shows
At the Lawrence County Fairgrounds in New Castle, PA
Thursday, May 25 - Monday, May 29, 2023
​
Thursday - Altoona Area Kennel Club
Friday - Altoona Area Kennel Club
Saturday - New Castle Kennel Club
Sunday - New Castle Kennel Club
Monday - Mahoning Shenango Kennel Club