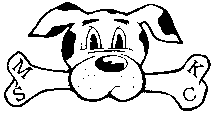 The Mahoning Shenango Kennel Club
An 88 Year Member of the American Kennel Club
Informative Links
The following links have been gathered as a courtesy by the Mahoning Shenango Kennel Club.
The American Kennel Club

The American Kennel Club is a purebred dog registry as well as a great source of information concerning purebred dogs, dog events, (dog shows, obedience, agility) canine dog legislation, (breed banning etc) canine public education and much more. Before purchasing or adopting a American Kennel Club recognized breed, look here for important advice and information. Research the breeds of dogs you may be interested in purchasing. Be an educated buyer.
The American Kennel Club Rescue Network
These contacts can assist you with information from the largest network of dog rescue groups in the country.
Beaver Kennel Club

The Beaver County Kennel Club was established in 1948. Meetings are held the first Tuesday of each month at 8:00pm. The Kennel club is located at 580 Jackson Street in Rochester Pennsylvania. For full information on the Beaver County Kennel club and it's activities including conformation, obedience, agility and rally classes held through out the year, as well as many other activities.
Columbiana Kennel Club

The Columbiana Kennel Club is a sanctioned club of the American Kennel Club. Meetings are held the first Wednesday of each month at Heck's Restaurant at 8:00 pm. For more information on the Columbiana County Kennel Club, please contact Beverly Schwab (724) 796-1446.
Fort Steuben Kennel Club

The Fort Steuben Kennel Association holds its meetings at 7:00pm on the 2nd Wednesday of every month at the Eat N Park in Steubenville, Ohio. President is: James (JR) Lerby. He can be reached at: 740-733-7585. FSKA contact: Gael Dameron at 740-632-7140.
MF-B Inc

American Kennel Club annually licensed superintendent. NC phone: 919.379.9352. Fax 919.272.0864.
Orthopedic Foundation for Animals

The OFA's objective is to screen and collect information on genetic health and disease in canines. OFA works to To advise, encourage and establish control programs to lower the incidence of orthopedic and genetic diseases. OFA screens and advises in several genetic diseases in dogs such as: Hip and Elbow Displaysia, Patellar Luxation (popping knees), Legg-Calve-Perthes, Cardiac, Thyroid, DNA, Congenital Deafness, Sebaceous Adenitis, Shoulder OCD.
Youngstown All Breed Training Club
Youngstown All Breed Training Club instructs the human student to instruct his or her dog. YABTC offers classes such as agility, conformation, obedience and rally.
AKC Breeder Referral
Thinking of getting a purebred puppy? Visit the AKC Breeder Referral site to find breeders near you.
AKC Canine Health Foundation
Become a member of the AKC Canine Health Foundation to help advance the health of all dogs. Participate in canine health research by providing samples or by enrolling in a clinical trial. Samples are needed from healthy dogs and dogs affected by specific diseases.
Steel Valley Cluster
Get more information about the Steel Valley Cluster dog show at the Canfield Fairgrounds.
Mahoning County Dog Pound
Visit to see hours, dog license information, and get adoption forms.
Trumbull County Dog Pound
Visit to see hours, dog license information, and get adoption forms.