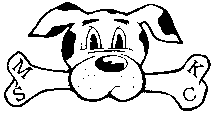 The Mahoning Shenango Kennel Club
An 88 Year Member of the American Kennel Club
Who Are We?
The Mahoning-Shenango Kennel Club was incorporated in 1935. We are an all breed club and a member of the American Kennel Club.​
The club meets the second Wednesday of each month at 8:00pm

A few club activities our members enjoy participating in are:

1. The Steel Valley Dog Show Cluster
2. Monthly meetings
3. Election of Officers
4. Summer Picnic
5. Christmas Party

We welcome guests to our meetings. The Mahoning Shenango Kennel Club is a great place to share your interest and love of pure-bred dogs with fellow dog enthusiasts. If you would like more information regarding The Mahoning - Shenango Kennel Club, call Georgianne Doyle at 216-598-8605. Come join us in the dog fancy!

Our Club Officers for 2023
​
​
President - Frances (Tyne) Horvath
email: honeyweims@yahoo.com
Vice President - Jim Henshaw
email: bluerune@northrim.net

Treasurer - Jessica Ricker

Corresponding Secretary - Stacy Judge

Recording Secretary - Georgiann Doyle
email: myaussiedogs@gmail.com


Trustees:
Furman Alden
Cindy Zeisler
Claudia VonOstwalden
Kathy Durrell
Want More Info About Our Club?