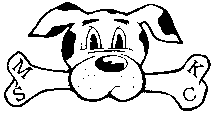 The Mahoning Shenango Kennel Club
An 86 Year Member of the American Kennel Club
RUBY, "Honeys Valkyrie Rare Ruby, CGC, TKN" competed in her first Agility Trial at YABTC on April 23 & 24, 2021. She earned 2 Legs in Novice Preferred Jumpers with Weaves & 1 Leg in Novice Standard Preferred, including 3-1'st Places. Way to Go, Ruby 2 Shoes! Owned & Bred by Tyne Horvath.
Claudia von Ostwalden and Rae Reinhart
Visit to see some beautiful Belgian Sheepdogs doing agility work.
Jim Henshaw and Jessica Ricker
Bluerune Leonbergers
Visit to see our wonderful Leonbergers.
THERESA EVERETT
(9-11-60 to 9-29-16)
& Kyleewood Beagles
Theresa joined MSKC in 1991, was a Breeder, Trainer of Champion & Obedience Titled Beagles. For many years she worked for the Club performing Public Education duties. She organized numerous Dog Demonstrations at our Annual Dog Shows, to increase public awareness of various Canine abilities & activities. Gracie, a beagle she owned & trained, starred in a PBS School Television Series in 1993 called "Secrets of Sherlock". This enabled her & Gracie to do numerous school & public appearances promoting Responsible Dog Ownership. More recently she designed & managed this Kennel Club Website besides her own Kyleewood Website & Dog Training Profession. Theresa, you will be GREATLY MISSED! Rest in PEACE!!!